The production program of our company is set up to meet the current requirements of a customer both in quality and in certification.
The products in the production programme are often mutually interconnected so that we could offer to the customer not only a single cable but also the whole cable route.
For our customers in nuclear sector we offer a cable route, that consists of a LOCA-cable in a zone of a nuclear reactor, a hermetic cable penetration/seal, that passes through the hermetic wall of reactor, and a cable in "clear" zone of NPP as well as all LOCA cable joints also made by Kabex. Such a system is ideally compatible and highly safe, because it's completely produced by one manufacturer.
We also have the wide portfolio of cable for refineries (Oil&Gas sector) and chemical plants including cables for hazardous areas/locations (ATEX).
The third main branch, that we produce cables for, is the road tunnel construction and underground tunnels such as metro. We produce cables, cable joints and hermetic cable penetrations/seals for underground tunnels.
EXPORT TRADE FINANCING
Kabelovna Kabex cooperates with the Czech state insurance company EGAP and the State export bank Czech Export Bank (ČEB) and can provide our partners with a wide range of export financing solutions and competitive terms.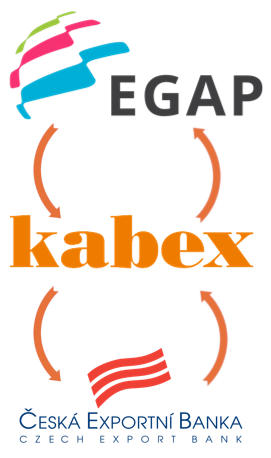 Coupled with positive cooperation reference with leading European banks and increasing contacts with multilateral development finance institutions, we assist our Clients with tailored financial facilities for equipment supplies.
up