Kabelovna Kabex's products for nuclear energetics are specified for application in a hermetic zone of a nuclear power plant in all operating modes including course and decay of LOCA event – maximum (severe) project accident. The products can be used also in various environments with an occurrence of ionizing radiation such as appropriate areas of medicine.
Kabelovna Kabex is a unique manufacturer who can deliver the whole cable system (route) comprising cables, cable connectors and hermetic cable penetration from the primary to the secondary zone NPP. All parts manufactured in one factory ensuring perfect compatibility, which has a direct impact on the safety and reliability of operation.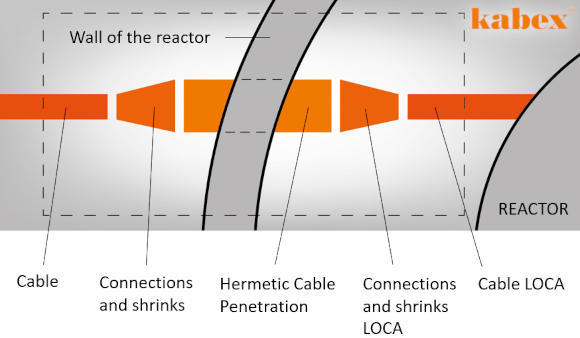 SPECIAL CABLES AND CABLE ACCESSORIES FOR THE NUCLEAR POWER INDUSTRY:
- LOCA cables, cables for nuclear polar crane
- Cable heat-shrinkable accessories, LOCA cable joints
- Repair sets for penetrations of the following types: PGKK, PGSK and ELOX
- Hermetic cable penetrations (seals)
ENVIRONMENT CONDITIONS
The products are qualified for conditions of the NP environment type of VVER. The products resist effects of temperatures, humidity, chemical substances, ionizing radiation, vibration and seismic influence.
THE PRODUCTS ARE QUALIFIED BY RESISTANCE TO ENVIRONMENT ACCORDING TO THE FOLLOWING STANDARDS:
- IEEE Std. 323-2003 Qualifying Class 1E Equipment for Nuclear Power Generating Stations
- IEEE Std. 383-2003 IEEE Standard for Type Test of Class 1E Electric Cables, Field Splices, and Connections for Nuclear Power Generating Stations
- IEEE Std. 317-1983 (IEC 773 (1983-01) – Electrical Penetration Assemblies in Containment Structures for Nuclear Power Generating Stations
- IEC 60780 – Nuclear power plants – Electrical equipment of the safety system - Qualification
- IEC 61226 – Nuclear power plants - Instrumentation and control important to safety - Classification of instrumentation and control
You can download the brochure "Program for nuclear energy" with a detail information about the LOCA-cables, hermetic cable penetrations and LOCA-cable joints in Download section.
up